Hi all,
Last year I engineered and mastered a Christmas record that I was quite happy with. I printed my own jewelcases, and mass produced hundreds of copies and passed them out to everyone I knew personally the weeks leading up to Christmas, Hanukkah, Kwanzaa.
I thought of doing the same thing this year; but suddenly decided, "maybe instead I'll just print up download cards."
So I've placed the entire CD, 18 songs and color .PDF album cover as one big .zip file.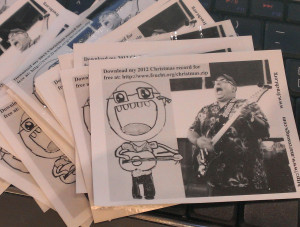 Here's where you can get it for free:
http://www.frucht.org/christmas.zip
You simply download the file, unzip/unpack and burn to a blank cdr, print out the artwork and fold it into a holder for your CD. Then play the thing in your car, media center or stereo or right there on your laptop.
And of course these days if you don't even feel like printing a CDR you can just make a playlist on your phone or ipod with the MP3's themself.
Cheers,
marco