Little Boxes – Malvina Reynolds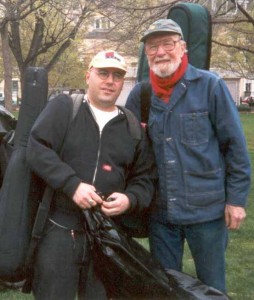 The first time I saw Pete Seeger perform this live
was in Providence Rhode Island. He was doing a tribute
to Malvina Reynolds who he credited for his first hit 
single. It was an evening of folk music that was a who's
who of "Pete Seeger & Friends." Each did a song or two
that she'd written, and then they
ended the show with a stage full of people singing
Little Boxes for a very long time. I was in heaven.
Not for the fame around me, but for the mass of people
we were, singing together. It was something I can't
describe in words. Greater than his banjo playing and
his beautiful voice that to this day remains clearer
than a bell, Pete Seeger's gift really IS his ability
to get an entire "room" singing together.
"Katzberg recalled Seeger as emcee at a tribute to Malvina Reynolds at Veterans Memorial Auditorium in 1993, and singing at the Rhode Island Labor & Ethnic Heritage Festival in Pawtucket in 1996. The latter, she said, perfectly fulfilled a vision she once had about the festival. (Katzberg has a picture of herself on stage with Seeger.)"
http://www.providencejournal.com/writers/andy-smith/20140128-remembering-the-role-pete-seeger-played-in-rhode-island-folk-music-scene.ece
The nammys say this about him:
Seeger also encouraged Oneida Nation musician Joanne Shenandoah. She was one of his favorite artists. He shared the stage with her on many occasions including a remarkable set with the late Odetta ten years ago, at Madison Square Garden for his 90th Birthday on May 3, 2009, and in 2012 when he, Shenandoah and Patti Smith sang at Cooper Union Hall in New York City for a human rights event. When asked last year as to which performance he wanted to attend he elected to hear Joanne Shenandoah, standing on the side of the stage for her entire hour long set.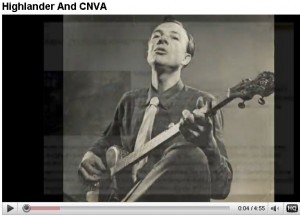 Last night Lincoln Center Out Of Doors put on a ginormous memorial concert remembering Pete Seeger's legacy through song.
It reminded me so much of that Malvina Reynolds tribute in Providence way back in the day. It had that same feel to it. Heck, at least 15 of last night's performers were at that show.
Anyhew, they're streaming that entire concert on a loop at http://watch.lincolncenter.org/pages/live-stream-seeger-memorial?_ga=1.67522065.1040021086.1405935394 for the next 24 hours!
Check that out.