Here we give you some play by play and chatter during
the Grammys' 51st ceremony.
Before we get to what they broadcast last nite, I'll
mention that Leo Fender' wife accepted his Technical
Award for designing guitars & amps.
And my friend Martha's Saxophonist, Randy Brecker won
the grammy for best contemporary jazz rekkid.
Daft Punk is a noshow at the Grammys? Dork.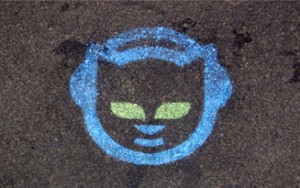 Suddenly NARAS is putting all their extra energy into the non-profit world just as the economy tanks?  — Predictable.
The Grammy backing band is earning their salary today – lots of no-shows
Did I just see Winona Ryder dancing in the front row to Heavy D? Bach had 20 children… something about pulling out all the organ stops? No offense dude, but really dumb frickin' joke.
Bela Fleck & The Flecktones win for Best Pop Instrumental for their Christmas CD – Victor Wooten accepts in a pirate costume
Pete Seeger wins for best traditional folk – $5 if you know
who accepted for him – [ hahaha. was eating. Bruce Stringbean? ]
Watching Coldplay's CBS interview footage in a plane I
couldn't help but think about Josie and the Pussycats
with the planecrash intro.
Is Bono making fun of teleprompters and lip syncers??
Al Green is rockin' it; and jeez, Justin Timberlake is
NOT sucking tonite.
I saw Kid Rock at Harley's 100th anniversary. He's very
untalented. Just sayin.
John Corbett's still doing Applebee's ads I see. That seems
like quite a gig for him.
Coldplay seem to have nothing to say. Just sayin – maybe
they should've said the reason they didn't steal those beats
was they'd never lift such a horrible sound. Oops.
KidRock, less heroin, ok? Sorry Kid, you're no Ricky Medlocke.
To his credit, I have to say he's not sucking like he did at
Harley100 but I do wish he'd amp less. What the HECK was the
clap-4-the-wolfman stuff he put in there with his backing
tracks???
I wonder if the #grammys official AA dry peoples' room is full
this year?
Is that Billy Ray rockin' the mullet directly behind Miley there
stage right? I never liked Taylor Swift until New Years, she
impressed me greatly then. She's helping Miley not suck too.
Miley's major talent since she was 5 has been reading cue cards
very conversationally as if she's improvising each every phrase.
Whoever taught her RW&A should B proud
Guitar Hero ad. Well produced. Too affected. Good try though.
Oh no the Jonus Brothers…Mute quickly!
Jonas Bros and Stevie this is like when Clive or someone made
John Denver team up with Pavarotti.or Domingo or someone on a
whole album. Stevie Wonder playing with the Jonas Bros. My mind
cannot fully process the essential wrongness of this.
Blink 182. What's my talent again?
I'm sure the Obama girls are watching the Jonas Brothers now singing
with Stevie Wonder and I bet they're tring to find some diplomatic
way to go, "WTF?"
I will never get these minutes of my life back. Damn you Jonas Bros.
RT: @PnutButter downturn really hit me 2day when I saw a lady w/ sign
in front of Wholefoods: "Will work 4 organic arugula & pinot grigio."
Katy Perry kinda doesn't sing good.
OMG. Just gave kudos 2 a talented chubby person! [Adele] I think
Mario Lanza was the last time NARAS allowed something like that!
Todd Rundgren for Carnival Cruise Lines. Surreal. I think I'll
take drugs now.
Tribute to Bo Diddly – Couldn't you have done that when he was
still alive and everyone was stealin his beats???
Paul, promise me you won't sing that "Freedom" song you hacked
to pieces? I hid for 5 days. Wow, he's still got that high G
falsetto thing going on. It's like watching Beatlemania with
25% of the real deal.
Christian Bale rant was possibly staged. Says Hollywood catching
on 2 how 2 use social media: http://tinyurl.com/csgle9
Oops, more Silverlight rebuffering\sync problems again. I thought
Microsoft worked that out a couple major events ago! Wow, someone
simply playing a guitar really well, and someone singing really
well. Is it that hard for everyone else???
OMG I'm gonna buy a Sugarland rekkid just 'cause of this. Don't
think I've done that since I was like 10 & Roger Miller swept
or something
I bought the Radiohead album when it was free. That felt safe
and warm.
Well we found something new that Silverlight doesn't handle
well. Bleeping. >:| !
PARAPHRASING THE PREZ "In times like these people turn to us
for hiding their gross income on a tax dodge," No one's demanded
more cowbell yet. Alright. Lemme be the first. Just sayin.
Oh no he didn't. did NARAS president say "yes we can" to suing
the pants off preteens who Napster??? Neil Portnow is so last
Millenium. Woah, so is Neil Diamond. Where's screech when you
need him? http://tinyurl.com/c5ro3d
And who remembers when C. Michael Greene abruptly resigned
in the wake of sexual harassment allegations? Oops.
And the Grammy for most murder charge acquittals goes to
Phil Spector
Seeing 5 seconds of Odetta made me sooo happy. Imagine if
the Grammys gave her a minute or 2; especially seing as
how she died last month before her #inaug09 gig. I can't
help but think about how much Odetta wanted to sing at Obama's
inauguration – and she almost made it
News Reports coming in that Chris Brown did in fact beat up
Rihanna.
Is lil wayne wearin' uggs? OK, they're BKs or something.
I thought they uggs! Hahaha
Great. CBS is recycling this embarrassing forever young
pepsi jingle. wil i am and bob dylan are prolly squirming
with heavy groans like me! Should I be happy that Dylan
is still relevant enough to headline a Pepsi ad, or sad
that vintage Dylan is in a Pepsi ad? I'm feeling both.
(happy/sad about the Dylan renaissance…)
So Chris Brown beat Rihanna nearly to death. Who does he
think he is JAMES Brown??? Small-brained coward
Page and Plant wrote this? It sounds like they stole it
from Roy Orbison!
RT @postrock Oh no, the Dylan/will.i.am. commercial that
makes me reach for the Grey Goose. And it's EMPTY!!!!
T-Bone Burnette is the GE Smith of the Grammys tonite.
Plant and Krauss deserve this one just for putting up
with his hairdo.
"…and Rounder Records who are working against all kinds
of stuff that is terrible." Understatement of the Millenium.
Thanks Mr. Plant!
You're running perfectly on time and still feel the need
to put music over Robert Plant and T-Bone Burnett? C'mon,
producers.
The following twitterers contributed to this report:
@ShannonRenee
@FolkAlley
@andylevy
@PnutButter
@crinkle_LC